Even though there are a wide variety of filming settings accessible. But still, it might be difficult to identify suitable ones. Locations are the main context before making the film.  It must provide us with the appropriate mix of indoor and outdoor locations. No matter what you are doing, location and space are essential to a successful film shoot. There are many different aspects to the movie-making process. You need space for the enormous collection of tools, lifelike sets, and parking for automobiles and trucks. These are but a few of the numerous requirements at locations where movies are shot. This article will include amazing places in Indore.
There is no doubt that surroundings have a big influence on how your work turns out. It's equally important to the story as the actors in the movie or television show. If characters are the shoot's engines, then locations are its gasoline. The right ignition must be lit in the proper location for the engine to purr as it should. As a result, it's essential to pick the filming location carefully to guarantee that it matches the footage.
What else goes into making a great movie? Interior and exterior sets are widely used in movies, and they may make or break a production. In this guide, I will guide you to some of the best filming places around Indore. Also, I will mentor you in scouting a perfect location for the film. (Location scouting is the process of locating actual locales to represent made-up settings in a movie. The right location supports the narrative and helps filmmakers create believable worlds). Also, will tell the top 10 filming locations in and around Indore, Madhya Pradesh.
Top 10 Film Shooting Locations
Sunvilla, a Mini Resort, is among the top filming locations close to Indore. It is captivating in every way, including its beauty, tranquility, natural surroundings, etc. Sunvilla also features a beautiful dining space and a party area. The perfect location for unforgettable meals, weddings, business meetings, and filmmaking. The distance between Sunvilla and the airport is only a few miles. Sunvilla Resort is close by and easily reachable by car.
The Sunvilla Resort fulfills all the necessary criteria, setting it well beyond other comparable setups. It can work in two different ways to fulfill any objective and even specific client requirements. Whether you need them for a movie scene, workshop, music video, or picture shoot; you may utilize these fantastic resources in amazing settings.
One of the best locations for filming has the following amenities to offer:
It is appropriate for filming music videos, motion pictures, web series, photo sessions, etc.

Places with a wide-open, natural feel

Air-conditioned interiors with opulence

Realistic outdoor sets
Wonderful surroundings, lots of space
Another key benefit of this site is the huge open space. For some shoots, additional space for stages or pavilions may be required. Sets may be rapidly assembled and space set up so that everything is ready for the shot. Locations can be changed to accommodate the client's preferences. There are always-
Parking is open to the entire team and beyond

Adequate space to design custom settings and satisfy "spur of the moment" requirements

The ground management staff is always available to help with any concerns that may arise.
A great deal of daylight
When choosing a location for a film shoot, lighting is an important factor. This is important because it establishes the tone of the movie by adjusting brightness and darkness. Due to the nearby clean, open areas, sunlight is abundant during the day. The timing and perspectives you want are the only things left to choose from. Although the texture and intensity are determined by the amount of light. Other combinations are still possible even in the absence of sunlight. True Shades does an excellent job at this. Naturally, one of the most important aspects of filming a movie is taken care of as a result.
#2 Maheshwar- Popular Shooting Destination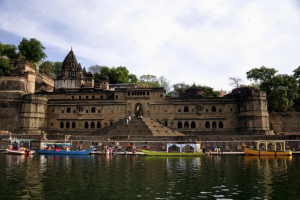 One of the holiest, most revered, religious, and cultural towns in Madhya Pradesh is Maheshwar, which translates to "Great God" in Hindi. Maheshwar has a spectacular beauty. It is situated on the Narmada River. Due to its beauty, it attracts visitors and pilgrims from all over the nation. Because it is well-liked by Bollywood and Tamil directors, Maheshwar is growing in popularity as a shooting location. Start your day early and leave from Indore towards Maheshwar along NH52. Without a doubt, you will enjoy the 2.5-hour travel to Banaras, M.P.
Maheshwar Fort
Before visiting Maheshwar Fort, start your city exploration by having some Maheshwar street food for breakfast. The front elevation and architecture of the Maheshwar Fort are exquisite. The design of the stairs is quite regal and lovely. This fort was featured in the Bollywood film Padman. And Sonakshi Sinha performed a dance number here for her film Tevar. Take a plunge in the river Narmada. Go boating there after exploring the fort to get a birds-eye perspective of the region. You will enjoy traveling through the Ghats. Maheshwar is a temple town with additional places of worship including Ahilyeshwar Shivalaya, Raj Rajeshwar, Narmada, Ek Mukhi Datta, and Baneshwar.
Overall, Maheshwar is a beautiful and historically significant city. There, Ahilya Bai Holkar resided.
#3 Indore Film City

A completely constructed, the integrated film studio is being created in Indore, Madhya Pradesh. To support the growth of the film industry, The Film City will add at least 10,000 new employees. It will also be a film city in addition to tourist attractions like gardens, mountains, lakes, homes, cities, and villages. Film city will be a well-liked site for Hindi and other regional languages Bollywood film shoots. For the initial stage of this Film City's development, about 100 acres will be used. Visitors will perceive it as a true dream world. Here everything is perfect and breathtakingly beautiful and where it is impossible to distinguish between the real and the fake. At film city, you can do a lot. This includes:
Short Films, Internet Films, Photography, Wedding shoots, Pre- Wedding shoots, Animation Films, Dancing and choreography, and many more.
Facilities at Indore Film City
A huge studio, luxurious private sites for indoor and outdoor filming, a recording room, a theatre, a garden, lakes, a fighting area, and helipads will all be available at the Indore Film City. Important Hindi filmmaking procedures, such as filming, editing, recording, etc., occur here. The main draw of Film City is the realistic-looking sets. It includes made-up lakes, fountains, mountains, gardens, homes, picnic places, cities, and villages that are required for shooting. The main attraction for travelers is the chance to see the distinguished star cast of the film in action. The Film City is also proud to own the most advanced machinery. It enables it to create movies of extraordinary quality. Indore Film City will soon become a crucial shooting location for the whole Hindi film industry.
#4 Rajwada Palace, Indore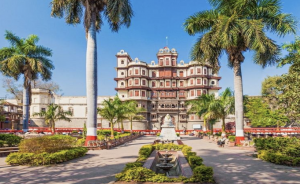 The city of Indore in Madhya Pradesh is known for its industrialization. It is considered a vital business hub for both the state of Madhya Pradesh and all of India. Yet one cannot ignore the rich cultural past the city possesses. One of Madhya Pradesh's busiest and largest cities successfully blends traditional Indian culture with modern consumerism. It is still possible to see the rich legacy of our kings. Particularly the Holkar Rulers of Madhya Pradesh, in the superbly designed palaces and monuments that they left behind.
The architecture of Rajwada attracts the film industry
The architecture of the Rajwada Palace, also known as the Old Palace. It pays homage to the Holkar Dynasty and several other kingdoms that have ruled India. The magnificent gardens, fountains, fake waterfalls, and countless other sculptures from the 11th century. They are situated on the royal grounds and continue to draw tourists to this architectural marvel. The balconies display Mughal ornamentation. Corridors lead to large windows and furnished rooms. In the past, vestibules were used to connect different parts of the palace. The foundation of this spectacular building's three stories is made of stone. But the upper stories are made of wood, making them flammable. The hall used to be used for royal receptions. It is now used to hold a variety of exhibitions and classical music concerts. Visitors are drawn attracted by the Rajwada Palace's attractive construction, which was influenced by Maratha architecture. 
#5 Lal Bagh Palace
Lal Bagh Palace is one of the most famous and gorgeous buildings in Indore City. It displays the beauty and majesty of the Holkar Dynasty. Holkar Dynasty ruled over a sizeable area of Madhya Pradesh for a protracted length of time. Southwest of the city of Indore, near the river Khan, is a neighborhood called Lal Bagh. The three-story building has hosted several royal receptions. 
The Lal Bagh Palace's architecture
Lal Bagh palace is one of the great structures constructed under the rule of Indian rulers. It is renowned across the world for its peculiar architectural style. The palace is recognized as one of the most opulent royal residences in India. In the marble entrance hall on the ground floor, there are many old artifacts on display. The beautiful coin collection on the first level comes from the Muslim era in considerable part. Because it takes people on a journey through history that covers a large length of time in every nook and corner; history buffs would never want to leave this palace. The castle contains modern paintings and sculptures from Italy and India.
Shooting of Kalank Movie at Lal Bagh Palace
Several visitors to Indore raised with the release of the movie Kalank. It was partly filmed in the lavish Lal Bagh Palace. Due to its genuinely royal ambiance, Lal Bagh Palace has long been a favorite Bollywood location. Many Bollywood films have been filmed in the castle. It has appeared in several crucial Kalank scenes. The wedding scene starring Aditya Roy Kapoor and Alia Bhatt was shot in the Lal Bagh Palace. The fantastic thing is that you can take memorable photos of yourself outside the Palace while visiting. Lal Bagh Palace was used to film a pivotal scene starring Varun Dhawan and Alia Bhatt.
#6 Gandhi Hall Indore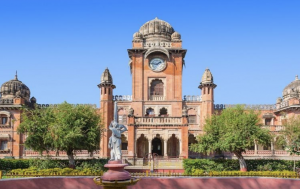 With a central hall that can accommodate roughly 2,000 people and grounds/lawns for even larger events; Gandhi Hall, the town auditorium in Indore, is an important venue for art and cultural performances. Throughout each of the three national holidays, the State Government lamps this building in the tricolor! The interior of Gandhi Hall, with its 1200 square meters of marble flooring, wooden stage, highly original paintings on the walls, and swinging wooden ceiling; has received a thorough refurbishment, as have the Gandhi Hall's exterior and building as a whole. In addition, the grand clock tower has now been restored to strike bells and show exact times. It had previously been stopped due to structural problems.
Gandhi Hall has its beauty at its peak. Thus, it attracts the Bollywood industry to come and shoot movie scenes here.
#7 Super Corridor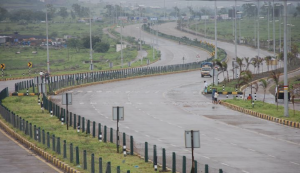 Indore has recently seen several notable developments in the field of infrastructure. The city is quickly becoming a great place for businesses and corporations. It is to establish itself as a result of its rapid growth. Due to these modifications, the super-corridor has been expanded and interior routes will be cleaned up in Indore. Indore's luxurious Super Corridor is what has transformed the city into Modern Indore. It consists of settlements that fundamentally disrupt the manner of living in Indore. According to reports, Super Corridor redefines Indore.
Singh Sahab the Great included detailed illustrations of the market districts of Indore. Places include Lal Bagh Palace, Chhappan Dukan, the Bypass region, Mayank Blue water park, Regional Park, the super corridor, and Rajwada. Sunny Deol, Amisha Pate, and Amrita Rao appeared in it, which was directed by Prakash Jha.
#8 Mandu
Mandu is a monument to life, joy, and poet-prince Baz Bahadur's love for his beautiful consort, Rani Roopmati. In the Vindhya hills at 2,000 feet above sea level, Mandu is home to several artistic creations. It combines the rich cultural traditions of Turkey and Afghanistan. Every structure in Mandu is a work of art, notably the massive Jami Masjid and Hoshang Shah's Tomb. And that the Taj Mahal's master architects may have drawn inspiration from. Mandu's Jahaz Mahal, which floats over its mirror, gives the impression of being a ship about to set sail. But for generations, this ship made of stone and mortar never did. Instead, as it sailed over the twin lakes, it bore silent witness to Mandu's lengthy, diverse, and rich past. The enormous palaces nevertheless retain a strong sense of royal romance, and the gateways (Darwaza) recount imperial victories.
Shooting of movie Kinara at Mandu
Madhya Pradesh has long been recognized as important in Bollywood. Historically significant sites and an abundance of natural beauty have made it a favorite filming location for years. A significant scene of the popular movie Kinara was filmed in the historic city of Mandu. The fortress, palace, tombs, and other ancient structures provided a stunning backdrop for the movie's main idea.
#9 Chambal Valley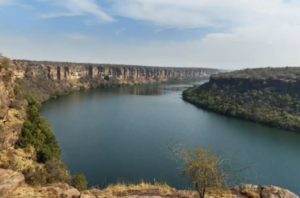 The north and east of the state of Madhya Pradesh are where the Chambal valley is located. The river valley is shared by the three states of Rajasthan, Madhya Pradesh, and Uttar Pradesh. As a result of this river's journey through these three states. The river passes through a region of Central India known for its hard and arid conditions. It makes the valley it passes through a very important source of water. It joins the Yamuna River in Uttar Pradesh, where its importance is reduced. But it also crosses a considerable area of Madhya Pradesh and Rajasthan, where it has a greater impact.
Shooting of Paan Singh Tomar at Chambal Valley
The Chambal Valley was used extensively in the filming of the well-known Paan Singh Tomar. It stars Irrfan Khan and is based on the real-life sprinter of the same name. The Chambal Valley was once notorious for its high concentration of dacoits. But it is now considerably safer and one of Madhya Pradesh's most scenic travel destinations.
#10 Regional Park
Indore is rich in natural beauty and has a long history. This regional park in Indore attracts visitors because of its magnificent beauty and alluring ambiance. It is also a well-liked tourism destination for both the general public and the Bollywood industry. They enjoy bringing their family here to enjoy themselves. It is one of the top locations in Indore for shooting a film. The regional park is carefully managed by the staff with assistance from the park's management.
What is location scouting?
Location scouting is a term that describes finding locations for the filming of commercials, TV shows, or movies. An indoor or outdoor location is sought by a location manager to serve as the setting for written scenes. Location research is a critical component in the preproduction process.
Location Scouting Considerations
When looking for the appropriate place for a filming setting, take into account these criteria:
Does the environment match the aims of the filmmaker and the plot's description?
Find out how far the location is from the main film office to see if it is doable to get the cast, crew, and equipment there.
A movie's budget will include a line item for locations. Determine whether any of the places that are participating in more than one place demand a fee. If a place costs more than you anticipated, try negotiating with the property owner.
Consider the difficulties involved in filming at each location. Considerations include parking, cell service, electrical power sources, space for craft services, and bathrooms.
Examine the interior and outdoor illumination to note in your scouts' notes. Is there any ambient noise, such as a nearby road, creek, or air conditioner; that would prevent sound from being recorded during filming? Note the general climate of the area.
Some suggestions for location scouting
To show the production designer and director, take images of the region. To capture the light and any sounds you might have missed, make a video using your phone. If you're a location manager, you should take pictures of any interesting places you come across and note their addresses. Do this even if you're not actively looking for a site. They might turn out to be brand-new locations for future video projects.
Make appropriate travel arrangements
Scout potential locations at the same time of day that the filming will take place. It is to obtain a sense of how it will seem in the right lighting. Pay attention to any possible background noise at that time of day.
Make certain you have contact at every possible location. Whether it be the owner or a representative of the owner. To ensure a productive shoot day at that site, if you want to use it. You will need to cooperate with that person.
Do not put the cart before the horse. It's best to wait even though you might be tempted to look at sites before you have a script. You don't need to arrive at the location. Do not come just to discover that the necessary window cannot be used to snap the shot. Your script will help you to decide which location is suitable for your shoot.
We have suggested you top 10 film shooting locations around Indore. And all these locations are somewhere used in the Bollywood industry. So, choosing from above all will be worth it!